Footprints of the Seiler Piano Duo
The Seiler Piano Duo has travelled mountains and dales to bring four hand piano music to audiences in the farthest corners of the Japanese archipelago.
The yellow dots on the map show
the locations of their concerts
in all the 47 prefectures of Japan.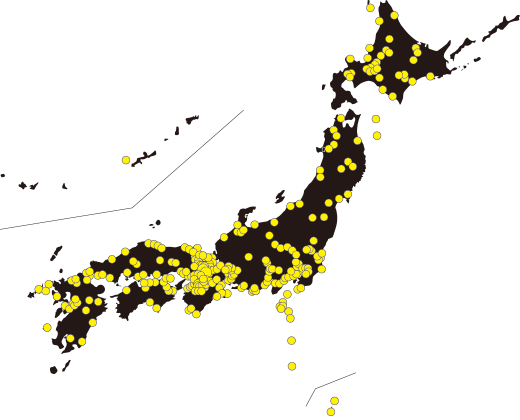 Milestones
1973

The Seiler Piano Duo established

1977

Southeast Asia tour sponsored by an international exchange grant from the German Cultural Center

1978

Concert tours in Hong Kong, Tokyo, and other regions of Japan

1979

Debut concert in Wigmore Hall, London

1980

One-week concert series held in the Mozart House, Salzburg, Austria
Recitals in Portugal and Germany

1985

Carnegie Hall debut to rave reviews in the New York Times
Second appearance at Carnegie Hall, New York

1989

Opening concert commemorating the completion of the Kayabuki Ongaku-do
Commence early summer and fall Kayabuki Concert series

1990

Begin writing weekly column "Zailaa fusai no seikou usou"(The Seiler Piano Duo: Come Rain or Come Shine) for The Asahi Shinbun newspaper

1992

Publication of "Zailaa fusai no seikou usou" in book form

1993

Concerts tours in Germany and Russia documented by Yomiuri Television Hokkaido Furusato Haiko Concert Tour series (concerts held in 35 regional schools throughout Japan from 1993-96)
Start Ozeki "Zabuton" Concert series sponsored by Ozeki Sake Corp. (held 60 concerts in small towns and village throughout Japan from 1993-2004)
TV Asahi appearance on "Tetsuko no heya"
Toho film "Waga ai no fu"

1995

Release CD "Toukyou seiin"
NHK (Japan Broadcasting Co.)BS2 "Classic Hour"

1996

Appear in two TV Tokyo high-vision documentaries

1997

Award for distinguished service from Japanese Ministry of Home Affairs
Appear in NHK's "Sekai waga kokoro no tabi" (World Travels of the Heart, a Documentary prime time)
Tokyo Island-to-Island Concert Tour sponsored by the Tokyo Municipal Government (recitals held in all 11 islands of the Izu Peninsula)

1998

Release live performance CD "Ichidan kisho"
First Kayabuki Ongaku-do Competition for Piano Duet

1999

Appear on NHK's "Geijutsu Gekijo: Stage Door"

2000

Concerts in Australia (Brisbane University) and America

2002

Numerous TV appearances including NHK's "Hello Japan" and Beat Takeshi's "Anyone can be a Picasso"

2003

Release CD " Oto Fuukei" ("Sound images")
Received the "Human Kazaguruma-sho" from Kyoto OMRON Community Foundation

2004

Finishing the Concert series "Ozeki Zabuton Concerts" 60 concerts throuout Japan.

2006

Recital in Tokyo, presenting the "Grosse Fuge" of Beethoven, celebrating the discovery of his long lost manuscript.

2007

Release CD "Kacho fugetu" (Flower, bird, wind and moon)

2008

received the "Kyoto Akebono-sho Special Prize" from Kyoto Prefecture

2009

Release CD "Kisei Rakuon ~Die Blaue Blume~"

2011

Celebrating the 300th performance at the Seiler Kayabuki Concert Hall.

2012

Receiving the "Kyoto Bunka-sho Kourou-sho" and the "Kyoto Souzousya Taisyo" from Kyoto Prefecture
"The Seiler Family Grand Concert" performed in the big hall of the Kyoto Concert Hall before a sell out audience.

2013

Release the DVD of "The Seiler Family Grand Concert".
Celebrating the 25th year of the Kayabuki Concert.
The Seiler Piano Duo Awards Received
1997

"Award for distinguished service" from Japanese Ministry of Home Affairs

2003

The "Human Kazaguruma-sho (Pinwheel Prize)" from Kyoto OMRON Community Foundation

2008

The "Kyoto Akebono-sho Special Prize" from Kyoto Prefecture

2012

The "Kyoto Bunka-sho Kourou-sho" and the "Kyoto Souzousya Taisho" from Kyoto Prefecture