Kio Seiler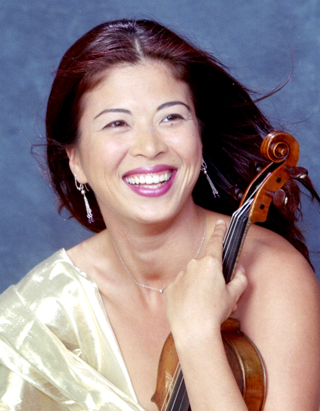 Kio was born in Kyoto, she started to play the violin at age 4. She went to Kindergarten in Goma, trying to out-eat and out-run the neighbor farmers children. She entered grammar school in Kyoto, a highly competitive school, for which she sailed through two eliminations by drawing lots, and an interview at entrance exam time. This luck has been with her ever since, she was chosen to be the mascot-calendar girl for a major Japanese firm at age 16, at eighteen she she was on all the posters of a big insurance company. This way she has learned how to behave in front of camera (keep smiling), how to handle interviews and how to stand in front of a big crowd.
She left for America during her high school years and graduated high school in San Francisco. Went on to Eastman School of Music, on to Cincinnati University, where she earned her bachelors degree. On to Yale University where she got her masters degree in violin. During her last year at Yale she won second prize in one of the major competitions in Japan. As result she was able to play the Brahms and the Prokofieff violin concertos with European orchestras in Tokyo, she also did her (successful) debut recitals in Tokyo and in Kyoto with sponsorships of a major newspaper and of Kyoto Prefecture, as part of a concert tour of some 10 concerts throughout Japan.
Kio went on to London where she did graduate studies at the Guild Hall School of Music and Drama, earning 2 more diplomas. She played with many European orchestras, as well as with American and Asian ones, for instance with the Mahler Chamber Orchestra under Claudio Abbado, The Orchestre de Champs Elysées, the Akademie fuer alte Musik in Berlin and the Salzburg Camerata. Before taking over her present post as leader of the second violin section in the Zuerich Chamber Orchestra, she had the same position with the Royal Flemish Orchestra in Belgium.
In case you might need a top fiddle, please contact:
http://www.zko.ch/das-zko/musiker